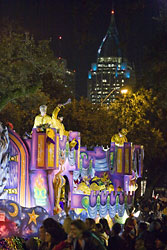 General madness overtakes Mobile annually in the weeks and days preceding Ash Wednesday as chants of "Moon Pie! Moon Pie!" (the favored "throw" of Mardi Gras maskers) fill the air of this historic Port City. Mobile is the site of the New World's first Mardi Gras, dating back to 1703. (That's more than 60 years before New Orleans adopted the tradition.)
Mobile's first Mardi Gras celebration dates back to 1703, when Societé de Saint Louise was founded. Originally called Boeuf Gras (Fatted Ox), the celebration was one of feasting and revelry on Fat Tuesday or Mardi Gras (the day preceding Ash Wednesday and the Lenten season which leads to Easter). In 1783 the Spaniards arrived in Mobile bringing their version of Mardi Gras which included torch parades held on Twelfth Night.
It was in 1857 that the Mobile members of the Cowbellion de Rakin Society traveled to New Orleans and assisted with the formation of the Mystic Krewe of Comus, to this day New Orleans' most prestigious Mardi Gras society.
The stress of the Civil War brought an end to the annual festivities in Mobile. After the war and under Union occupation, the city was disillusioned and discouraged. Then, Mardi Gras afternoon, 1866, Joseph Stillwell Cain set out to raise the spirits ofMobile. He donned Chickasaw Indian regalia, climbed aboard a decorated coal wagon pulled by a mule and held a one-float parade through the streets ofMobile. Mardi Gras with all its frivolity was reborn! Cain founded the Order of Myths, which still holds the final carnival parade on Mardi Gras night.
Today's Mardi Gras is a two-week party leading up to the infamous Fat Tuesday. Masked members of "mystic societies" dressed in satin and sequined costumes ride elaborately decorated floats while hurling beads, candy, trinkets, doubloons and "moon pies" at the eager crowds. Joe Cain Day – a uniquely Mobile Bay event – honors the man who revived Mardi Gras in Mobile Bay just after the Civil War. Celebrated the Sunday before Fat Tuesday, it is a day-long, city-wide celebration. Follow the Joe Cain Parade as it winds through downtown streets filled with excited revelers enjoying their picnics, cookouts, parties and unofficial miniparades.
The Mardi Gras Museum chronicals
each year's coronation costumes.
But Mardi Gras is truly celebrated all year round in Mobile as this is one city that truly likes to celebrate! No visit to Mobile would be complete without stopping at the Mobile Carnival Museum where you can view the spectacular costumes of kings, queens and their courts. National Geographic says the Mardi Gras coronations in Mobile rival those of real coronations in Europe. The people working at the museum live in their own world of Mardi Gras every day and can tell you all about the secret mystical societies, pageantry and coronations.
Toomey's Mardi Gras Store is another not-to-miss attraction. It is the world's largest supplier of Mardi Gras Beas, masks, decorations and seasonal party merchandise in the world….and of course—moon pies.