April 2020 Focus Section
2020 Windows & Doors Raise the Bar for Design and Efficiency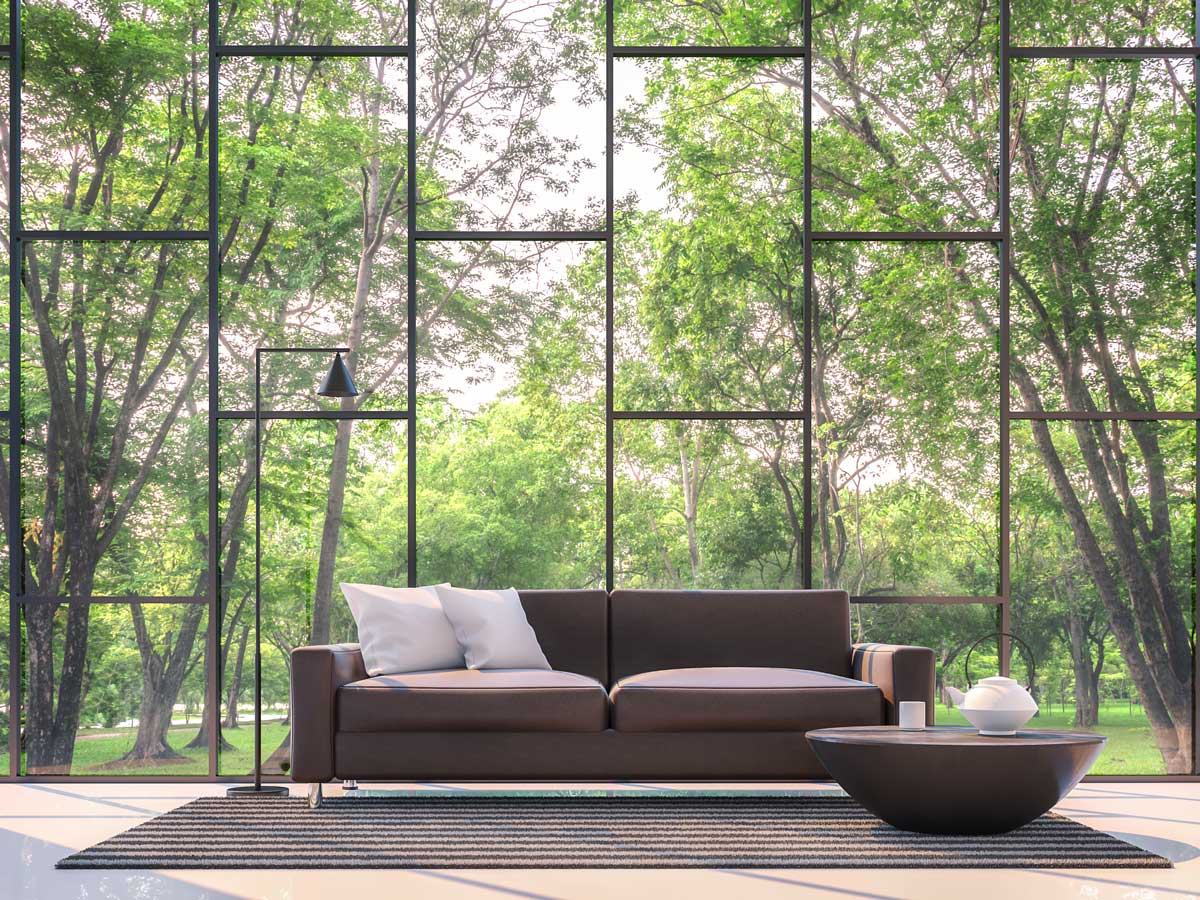 We crave oneness with the great outdoors and innately seek the influx of natural light, and the good news is that the evolution of fenestration allows homes to be designed to maximize daylighting without sacrificing energy efficiency.  Greater performance and aesthetic options at more price points are a result of building science evolution and education and national protocols for standards and testing,
SUPERIOR RESULTS START WITH THOUGHTFUL DESIGN
Achieving energy efficiency while using as much glass as the home design and budget will allow, starts with a good home design.  Savvy architects and designers consider properly oriented windows and roof overhangs as foremost design elements. Heat that is collected and retained in materials such as concrete, brick, stone and tile, (thermal mass) is another needed analysis. Windows with low-E coatings, gas fills, insulating spacers and frames, and glazing options can then be compared based on performance needs.  All of these factors can be plugged into computer simulations to evaluate annual energy performance based on the home's climate zone and average utility rates in the area.
NATIONALLY STANDARDIZED RATINGS SET THE BENCHMARKS
In 1989 the glazing and fenestration industry created the National Fenestration Rating Council (NFRC) and the Efficient Windows Collaborative (EWC) was subsequently formed in 1998 to educate manufacturers about how to communicate the value of energy efficiency to consumers and provide performance comparisons between one product and another.  Appearing on all products certified to the NFRC standards, NFRC labels are a way to consistently and comprehensively compare energy performance ratings for windows, doors and skylights.
Energy Performance Ratings on NFRC labels rate:
U-factor represents the rate at which non-solar heat flow moves across the entire window, including frame and spacer material.  Windows with lower U-factors indicate greater resistance to heat flow and better insulating value.  A high-UV window will result in higher interior window temperatures and thus more comfort in the heating season.  High-performance double-pane windows can have U-factors of 0.30 or lower, while some triple-pane windows can achieve U-factors as low as 0.15.
SHGC Solar heat gain coefficient is the fraction of solar radiation admitted through a window, door or skylight expressed as a number between 0 and 1.  The lower the SHGC rating, the less solar heat is transmitted.  Solar radiation is either transmitted directly or absorbed and released as heat inside a home. Units with low SHGC ratings are more effective at reducing cooling loads by blocking heat gain from the sun.   Conversely, units with higher SHGC ratings are more effective at collecting solar heat during the winter.  A home's climate region, orientation and external shading will determine the optimal SHGC.
Additional Performance Ratings on NFRC labels may include:
VT Visable Transmittance indicates the amount of visible light transmitted with most values between 0.3 and 0.7; the higher the VT, the more light is transmitted.  A high VT potentially saves money on artificial lighting.
AL Air Leakage is expressed in cubic feet of air passing through a square foot of window area (cfm/sf).  The lower the AL, the less air will pass through cracks in the assembly.
CR Condensation Resistance is expressed as a number between 1 and 100.  The higher the number, the better a product is able to resist the formation of condensation on the inside surface.
ABOVE-CODE RATING SYSTEMS PUSH THE ENVELOPE
The Department of Energy (DOE) and the Environmental Protection Agency (EPA) develop the ENERGY STAR designation for products meeting higher energy performance criteria across four U.S. climate zones.  Windows that have the ENERGY STAR designation will be labeled showing the zones in which it is qualified.  The DOE Zero Energy Ready Home offers a timely solution for differentiating high performing new homes from existing homes as well as new homes built to minimum codes.
The American National Standards Institute (ANSI), American Architectural Manufacturers Association (AAMA), Window and Door Manufacturers Association (WDMA) and the Canadian Standards Association (CSA) offer certifications that serve to identify fenestration products that conform within the specific tolerances set by each organization.
Sound control ratings include Sound Transmission Class (STC) measured as a difference in decibel levels, where a higher rating indicates more complete sound absorption and sound deadening performance, Indoor/Outdoor Transmission Class (OITC) measuring sound transmission of low- and mid-frequency noises through exterior walls.
THE BUILDING CODE PROCESS RAISES THE BAR
The building code cycle is continuous with new codes being developed every three years to recommend minimal performance standards. Ratings from NFRC can now verify that products meet the adopted state or local energy requirements.  The climate zone map was first introduced by the International Energy Conservation Code Council in the early 2000s. Based on temperature, precipitation, and heating and cooling degree days, the eight zones that latest code requirements will address are identified as: hot-humid, hot-dry, mixed-dry, mixed-humid, marine, cold, very cold and subarctic. Codes apply a different standard to each of the separate climate zones.
ASHRAE The American Society of Heating, Refrigeration and Airconditioning Engineers develops the model commercial energy code (Standard 90.1).  After a series of public hearings, the final versions of each new ASHRAE edition are voted on by the 90.1 committee members.  ASHRAE 90.1-2019 was released last October.
ICC  The International Code Council develops and gives the final vote on the International Energy Conservation Code (IECC) which contains chapters for both residential and commercial buildings.  2021 EICC code public hearings are now underway.
The Department of Energy (DOE) participates in both the ASHRAE and ICC development processes but has no voting authority. Its role is to provide technical assistance to state and local governments to aid their processes for adopting new codes. Each state has its own requirements for following the national residential building codes and states with "home rule" generally leave the authority to adopt policies to local jurisdictions.
TRAINING AND SITE SUPERVISION ENSURE THE OUTCOME
In the end, it's vital to hire the right installers and install, doors and skylights in accordance with manufacturer's specifications and/or prevailing building codes. Code requirements and best practices recommend integrating flashing with the water-resistive barrier (WRB) and installing membranes shingle-fashion where the top layer of the WRB or flashing laps over the bottom layer to prevent water draining behind the bottom layer. All flashing, WRB, caulk/sealant, and window/door products should be analyzed for compatibility.  Professional home energy audits employing blower doors and infrared cameras prove the results of good planning.
Beverly Smirnis is the co-founder of Building SAVVY magazine and publishes its flagship Dallas/Fort Worth edition. She and her business partner and husband, Steve Smirnis, have served as judges for the International Builders' Show Best of IBS Awards, the Greater Houston Builders Association PRISM Awards, the Greater Orlando Builders Association Parade of Homes, and the Building Industry Association of Okaloosa-Walton Counties' Parade of Homes.